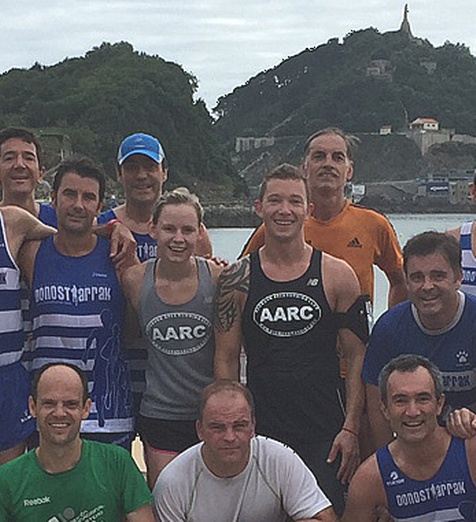 If you are looking for running partners in Donostia please join our workouts! 
It doesn't commit you to anything and it is always more fun running in group. It will help you to get a work discipline and if you want to improve your performance, you will learn tricks, training plans...
MEETING POINTS
1) Antiguo. Ramp to Ondarreta beach, next to the Tennis Club.
2) Amara. "Paloma de la Paz" in Anoeta, at "Colegio Carmelo".
If you live in another area, please study our course and meet us wherever it suits you. Unless you are very fast, run in the opposite direction from ours, of course :)
AGENDA OF THE WEEK
The main event is on weekends. On Saturdays, Sundays and on holidays starts at 7:50 a.m. in Antiguo or at 8:30 a.m. in Amara. You can choose the running pace you prefer. We use to run during about an hour and a quarter.
ROUTES
You can check out our usual training routes, here: Meet the Club/Fixed routes.
Sometimes we program routes in the province and we publish them here.
MEET US
If you see us running, feel free to join us! You are welcome!
If you want to plan the meeting ahead, please send us an e-mail to donostiarrak(at)donostiarrak.com or use our contact form. We will be pleased to meet you at the starting point.